Yet an­oth­er blog by Tom Swiss.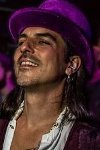 This one is for phi­los­o­phy and spir­i­tu­al­ity, Pa­gan­ism and Zen (and Taoism and atheism and Discord­ian­ism and maybe a bit of Transcen­den­tal­ism), poetry and music, and personal musings.
(Why "infamous tms"? Because my e-mail address has been my initials at various places since the early 1990s, and before Facebook there was this thing called USENET where we used to argue all the time, and several people who met me in person after knowing me by my e-mail address said something like "Ah, you're the infamous tms.")
For discussion of healthful, sustainable, and compassionate living, see Peace and Long Life. (Which I wish to all visitors.)
For thoughts on politics, culture, and technology, ask The Unreasonable Man.
For martial arts musings, walk down the Sky Hand Road.