"To summarize the summary: anyone who is capable of getting themselves made President should on no account be allowed to do the job. To summarize the summary of the summary: people are a problem."
-- Douglas Adams, The Restaurant at the End of the Universe
Hi. I'm Tom Swiss, currently serving as President of the Free Spirit Alliance, and I'm asking for your vote to remain in that role for another year. (Because apparently, I'm a glutton for punishment.)
Last fall, the FSA membership elected an entirely new set of officers -- Penelope Schmon as Secretary, Alison Chicosky as Treasurer, Tim Salisbury as Vice President, and me as President.
What we found when we came into office was, to be blunt, an organization in trouble. FSA had lost money on the Free Spirit Gathering for the past few years; according to one analysis, over the previous eight years FSA lost an average of $5,000 each year on FSG. Our financial, historical, and membership records were a mess. There was little accountability for how money was being spent, and we were often not in compliance with our own by-laws and articles of incorporation. Finally, and most severely, it had recently come to light that we were behind on filing important tax forms.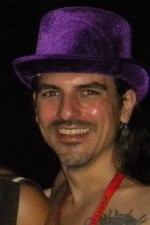 At FSG 2010
A year later, I'm happy to report that we are in much better shape! I appointed Tim as our 2011 FSG Coordinator, and thanks to his efforts and the hard work of our redoubtable festival staff, FSG made (according to our preliminary numbers) over $7,000 this year. Alison has worked hard to bring our finances in line and to track where our money went, and Penni has our membership and historical records more sorted than they've been in several years.
Most of the credit for the turnaround goes to Tim, Alison, Penni, and to the extraordinary efforts of our FSG staff this year to do more with less.
As for me, as President I worked with Tim on the FSG budget. I wrote a conflict resolution policy for our events, and started to organize a wiki to hold information such as our meeting minutes and our policies and procedures. Over the past year I worked to promote FSA both locally and regionally, attending events such as the Open Spirit Circle drum circles in Baltimore and D.C., the Playa Del Fuego regional Burn in Delaware, and the Starwood and Cornstalk Festivals at Wisteria in Ohio.
With advice from our Trustees, I was able to negotiate an handshake agreement with Ramblewood for the next five years, that holds our costs to a significantly smaller rate of increase than the previous five years and that gives us greater flexibility in charging festival attendees by the day of their arrival. I also renewed our contract with Turtle Hill Events to run our Beltane festival, while strengthening the FSA branding on that event.
I'm also pleased that, in June, the FSA membership voted to keep running our business meetings by Martha's Rules, a modified consensus model that I introduced last year. I believe that this change will help FSA members participate more fully in our decision-making process.
To recognize the amazing contributions that keep our festivals running, I instituted a new "President's Award", a tradition that I hope will take root and continue. The first recipient was Lady Amber, for over 10 years of amazing work on the Amber Rose School of Witchcraft and Wizardry.
To help us communicate more effectively, I set up a Twitter account for FSA (http://twitter.com/FrSprtAlliance), and tried to improve our usage of Facebook.
Finally and most importantly, based on the fact that our by-laws assign responsibility for making purchases to the President I accepted full personal accountability for spending. Working with Tim and Alison, I developed reporting procedures for tracking where our money went, so that we can trim inefficiencies and develop a better budget next year.
There have been many changes this past year. To be sure, it hasn't all gone smoothly -- this has been on-the-job training for all of us. Staffing cuts made FSG rough for many of us (including me) this year, and the necessity of changing procedures to track our spending caused some headaches.
But I believe that FSA now enjoys the best financial shape it has had for several years. We made money on FSG this year, and we know where the money we spent went. Our compliance with our own by-laws, and with applicable tax laws, is much improved.
If you agree that FSA is better off now than it was a year ago, I ask that you vote to return Alison, Penni, Tim, and me to office for another year.
If you do, it is my intention to ask Tim to reprise his role as FSG coordinator (or co-coordinator, if he can convince someone to join him in the job), and to continue to work with him and Alison on tracking spending and improving our "bang per buck". I believe that having Tim as both FSG coordinator and FSA Vice President served us very well last year and will work again this year.
Now that we have a better idea of where our money went, one surprising finding is how much we are spending getting people registered. By our preliminary figures, registration costs for FSG were over $8,500, with over $5,000 of that being credit card fees. If re-elected I intend to work closely with Turtle Hill Events, our registration contractor, to bring these expenses under control. I also will make adjustments to our pricing to correct the fact that currently, whenever a child 7-12 is registered or someone orders a meal at registration, FSA loses money because what we charge is less than the total expense we incur.
I would like to further improve our use of information technology, by moving our website to a private server that FSA owns and controls (we currently rely on a generous donation of space from Jason Linhart's summary.net) and by starting a member's e-mail list. I believe that by using such a server for our e-mail needs, and recruiting a volunteer or two to run it (possibly with festival comps as an inducement), we can actually save money over what we currently pay for Constant Contact e-mail services.
And if re-elected, I intend to continue to be a highly visible spokesperson for FSA.
Thank you for your trust in me over the past year, and I hope that I have earned your vote this year.
I would be happy to answer any questions you may have. Please feel free to e-mail me at tms@infamous.net.
-Tom Swiss