Ringo J. Pibble: August(?) 2009 - June 11, 2017.
Ringo came into my life in February 2010. I had recently lost Piccolo and wasn't really thinking of getting another dog for a while, when I got a message from a friend about how another friend of theirs had a dog who would be perfect for me.
I agreed to go meet the dog, though I didn't think anything would come of it, it was more to placate my friend. I went to the home that was fostering him, and suddenly this whirlwind flew down the steps, jumped on me and almost knocked me over, and then started to run laps around the inside of the house. When I sat down on the couch to talk to his foster dad, the dog -- then known as "Bingo" -- jumped up on the couch next to me, put his head in my lap, and went to sleep.
What could I do? I took him home. On the car ride home I decided that "Bingo" wasn't going to do, and running through sound-alikes hit on "Ringo". He is named after my mother's old Nash Rambler, her favorite car, which of course was named after her favorite Beatle.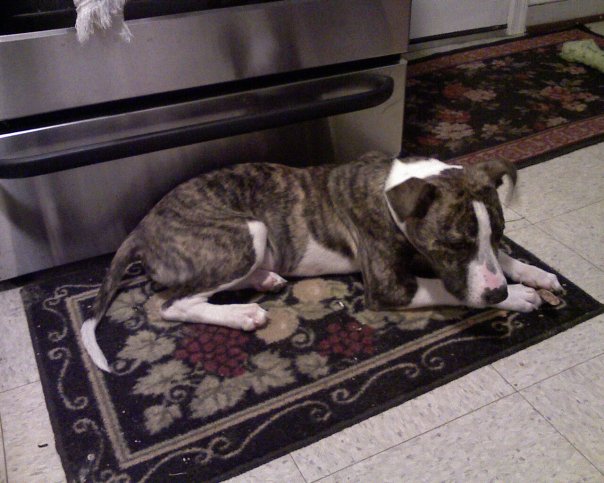 This was right before the "Snowmageddon" blizzard that dropped two feet of snow on us.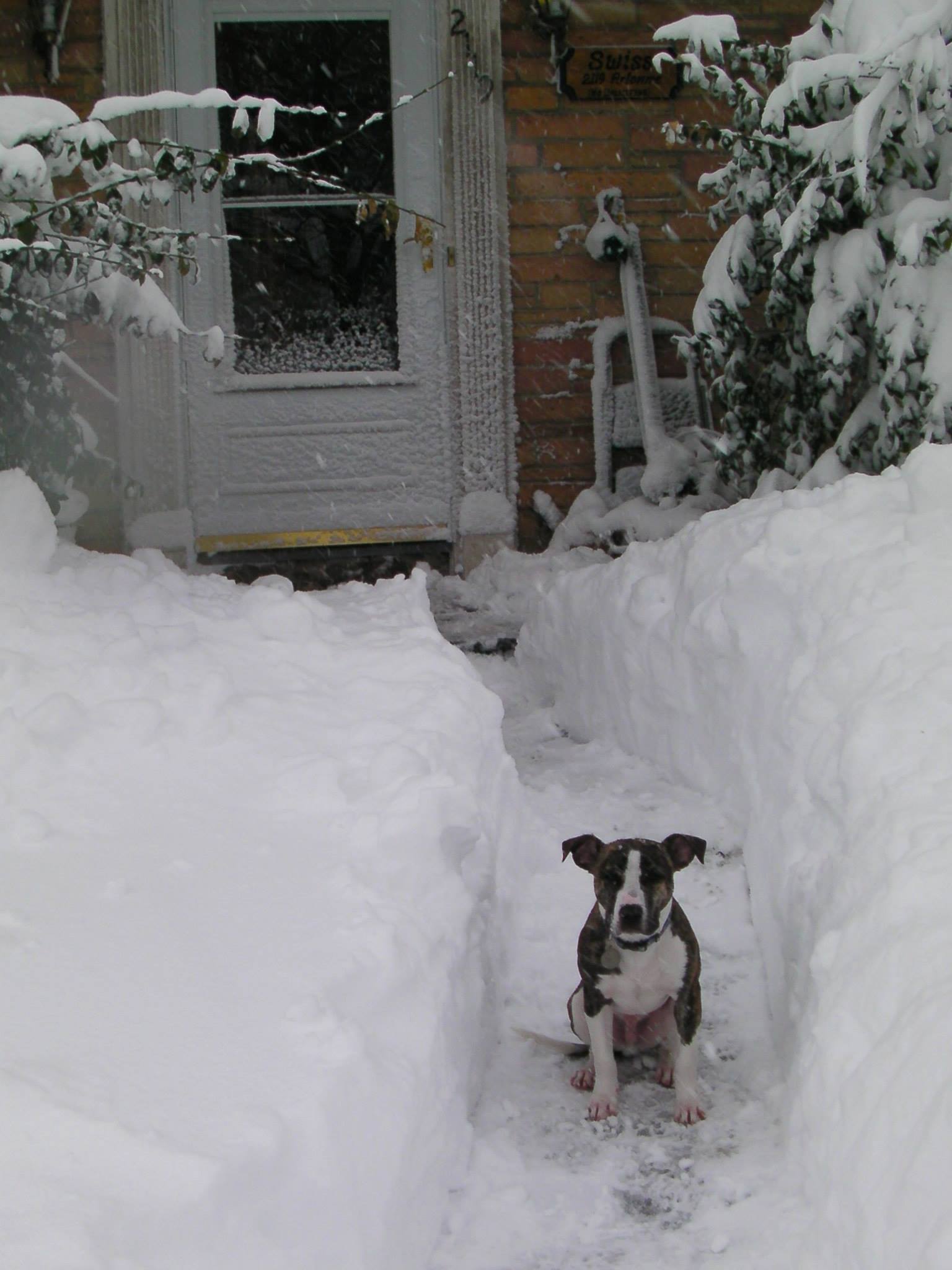 (This photo is in my book Why Buddha Touched the Earth.)
Depite the moral panic over pit bulls, Ringo was the least aggressive dog I've ever known. He loved everyone. We would often run the Trolly Trail, or walk over by Catonsville Middle School, and he never expressed any aggression to any person or dog we saw there. When I first got him, my housemate had a little Pomeranian, who would get the better of Ringo when they wrestled.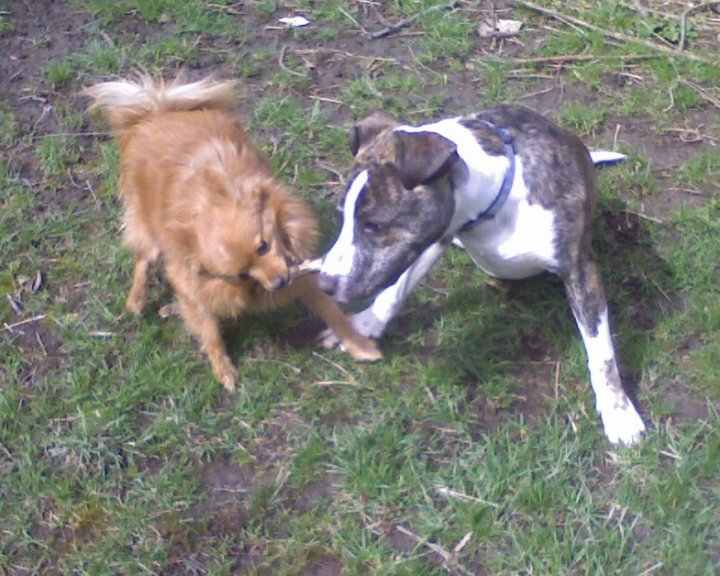 He inspired my mediation lecture at the dojo one month: Be An Enthusiast.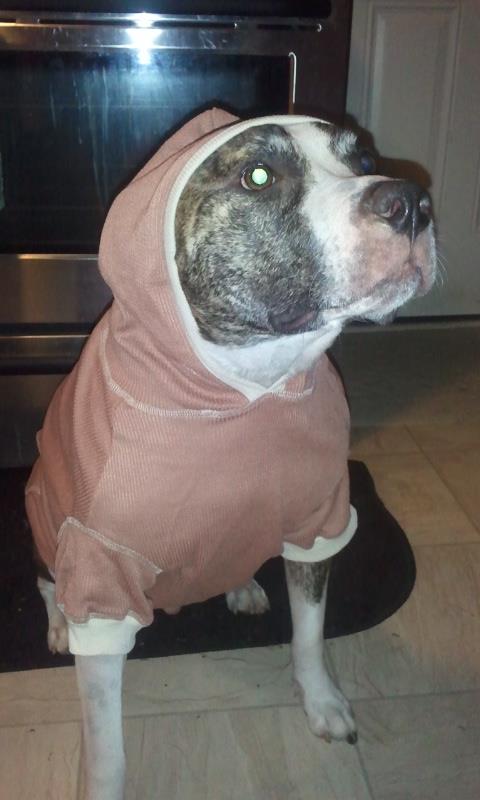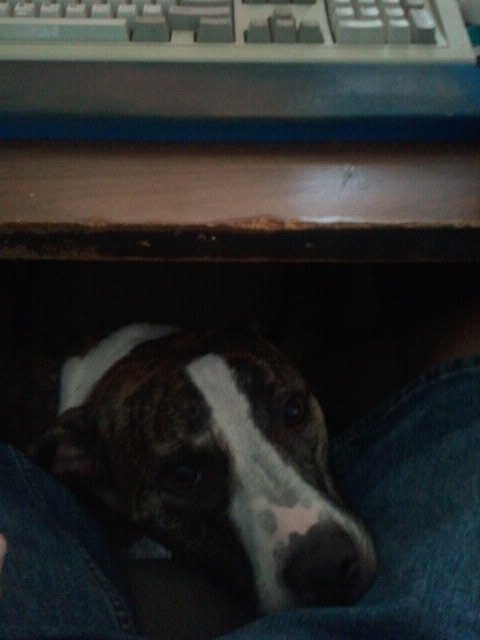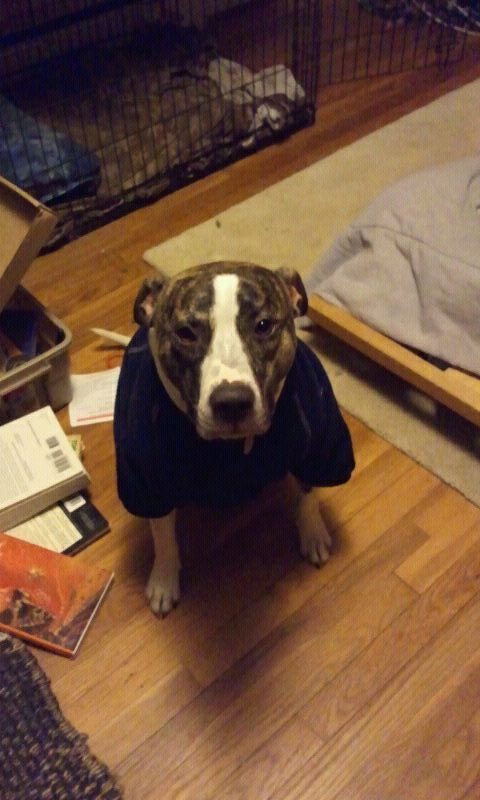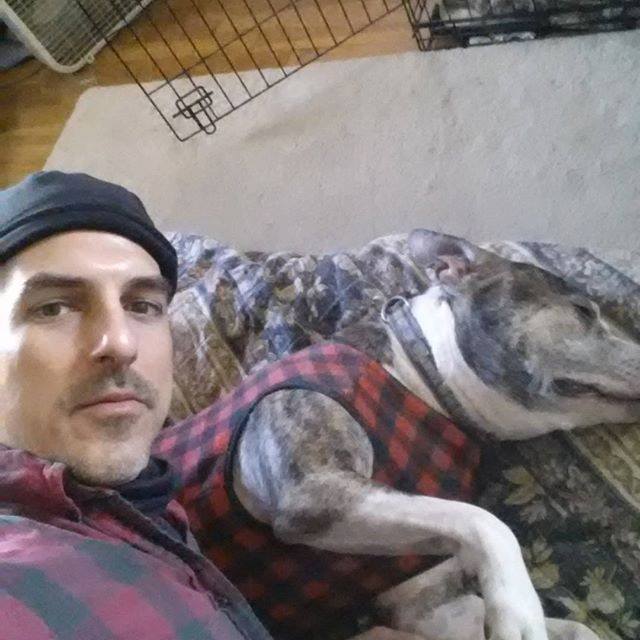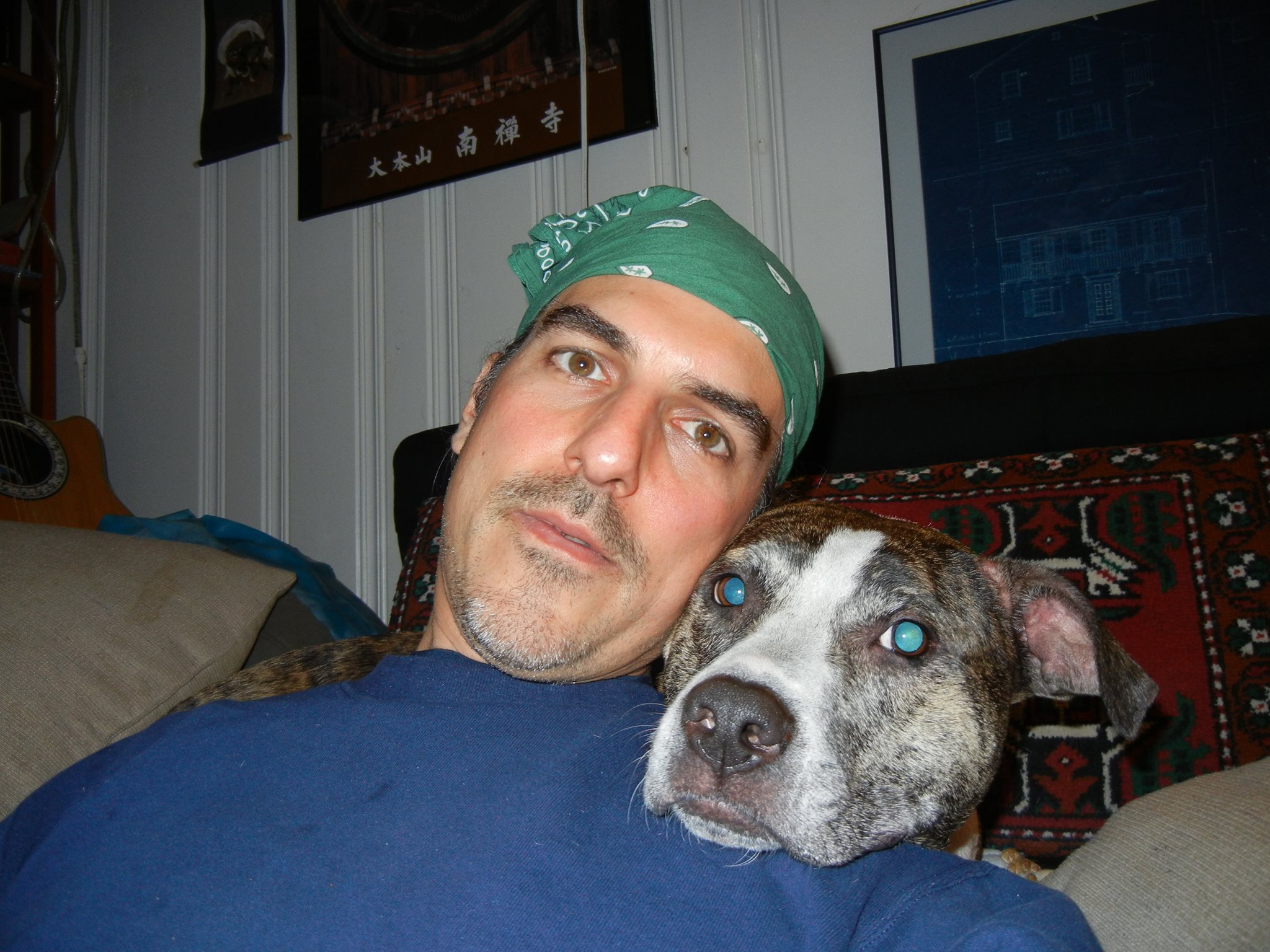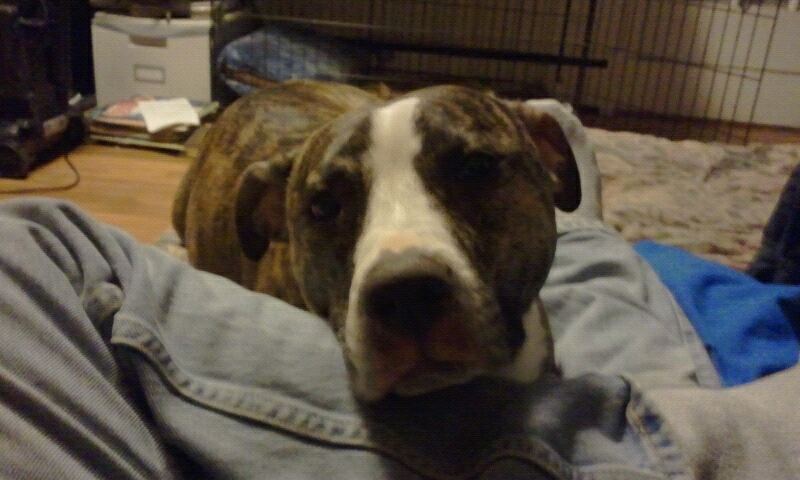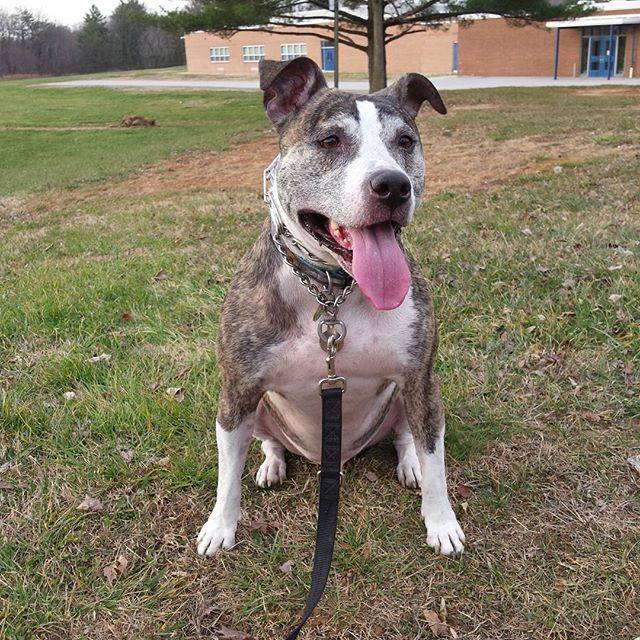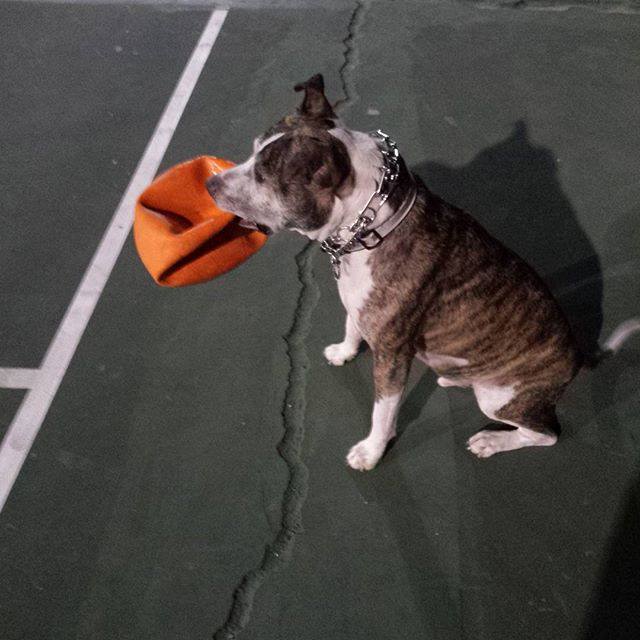 More photos in this Facebook album.
Ringo passed away suddenly on June 11, 2017. He had not shown any signs of illness. He was in the back yard with me, rolling around in the grass on a fine summer day and enjoying life. I looked over a minute later and he was gone. Whatever it was, a stroke or embolism, it was just about instantaneous. I tried to do CPR but was unable to revive him.
If you have memories of Ringo to share, please enter them at the end of the page -- they'll be e-mailed to me and I'll add them. Thank you.
Memorial donations may be made to Recycled Love Rescue, the rescue that fostered Ringo.
-Tom
---
Comments
Biggest puppy bruise EVAR comes to mind first... Loved that boy. He was like a Tasmanian devil - SO strong and hyper, but totally sweet... that one time I was cleaning your place and my yellow feather duster disappeared... and we found bright feathers and a happy yet guilty pit bull in the back yard - you were trying to reprimand him, but couldn't stop laughing... Always loved his coat, brindle and white, a beautiful combination. I'm sure I'll think of more. We loved him too, Tom. I'm so grateful Z has been there for each each other over the years whenever we've lost a furbaby, and we all have. I love that you had an athlete to run around with daily as hard as it is now in his absence - I never even thought to picture you doing 5 miles with Piccolo, which is kinda funny to think about now! Landry couldn't make it around the block, so I really have no place to judge others dogs. ;) Anyway, yeah, I think I was his 1st pet-sitter and watched him grow up. Always the center of attn at any of your parties, he just got so overwhelmed with all the people that were clearly there only to pet and wrestle with him. His walk across the rainbow bridge was so shocking, I think you should be proud of how well you handled such an insane and illogical situation. I hope you've given yourself credit for that. When I lost Landry I went in-patient. Not that I'm the norm, but neither are you. <3
---
Ringo was one of the sweetest dogs I've know, and I've known a LOT of dogs. I loved how snuggly he was, even if it was difficult to move once he'd installed his 75-pound body on top of my lap. He wouldn't let anyone ignore him. He gave me a paw right in the face once, and I turned to you and said, "Hey, is there a scratch there?" "No, no," you said. (The welt rivalled Tyrion Lannister's scar.) You're a great guy, Kyoshi Tom, but I would gladly have visited the secret HQ just to see your pup, even if you hadn't been there. And he was a lucky dog to have you as an owner. RIP, Ringo.
---