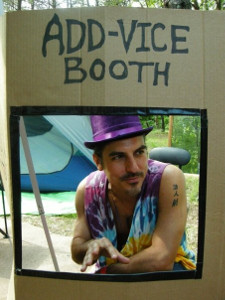 "Being a freedom fighter, a force for good, it's a wonderful thing. You get to make your own hours, looks good on a resume, but the pay...sucks." -- Alfred Bester, "Babylon 5: Moments of Transition", by J. Michael Straczynski
I hope that you find the work that I'm doing to be a force for good. If you've enjoyed reading my books or my blogs, or have been a karate student or a shiatsu client, or if you've taken a workshop or class from me, or enjoyed my music or poetry, or in some other way like what I do and would like me to keep doing it, there are a few ways you can support my work and enable me to keep on keeping on.

Just send me money. Put a little something in the tip jar. You can send a dollar or five or twenty or a hundred, every little bit helps. Big bits help too, if you'd like to be my wealthy benefactor.

on Venmo as @tom_swiss
on CashApp as $TomSwiss. (CashApp is awful and I suggest you use any other method you can, but I can accept it.)
or do it the old-fashioned way and hand me or mail me a check, or wad of cash.

I haven't done much with them (need to get on that) but I've created Patreon pages for my blogs "The Zen Pagan" and Sky Hand Road. Please consider supporting me with a pledge.
Hire me to teach a class or workshop, for coaching sessions, or for a writing or speaking or consulting gig. Contact me and let's discuss how I can use my diverse skills to help you transform your personal or business life.
Buy my books. I get a small royalty if you buy directly from the publisher (or printer, for Lulu books), or a smaller royalty if you buy from a retailer like Powell's or Amazon or the independent bookseller of your choice, but you can also order signed copies from me for just a few dollars more.
Buy merch at my CafePress store. The Zen Pagan Merch-o-rama has t-shirts, mugs, posters and prints, and stickers designed by yours truly. Buying a t-shirt puts about a buck in my pocket and something nifty on your torso.
If you're local to Baltimore, book a shiatsu session with me. (Or if you're not local, cover my travel expenses and book a session with me!) Gift certificates are available, a perfect COVID-19 purchase. (On-line wellness consulting coming soon during the pandemic.)
I'll be adding more links here soon. You'll be able to purchase signed limited prints of my photos and artwork. So do check back.
Thanks!