What's New From And With Tom Swiss?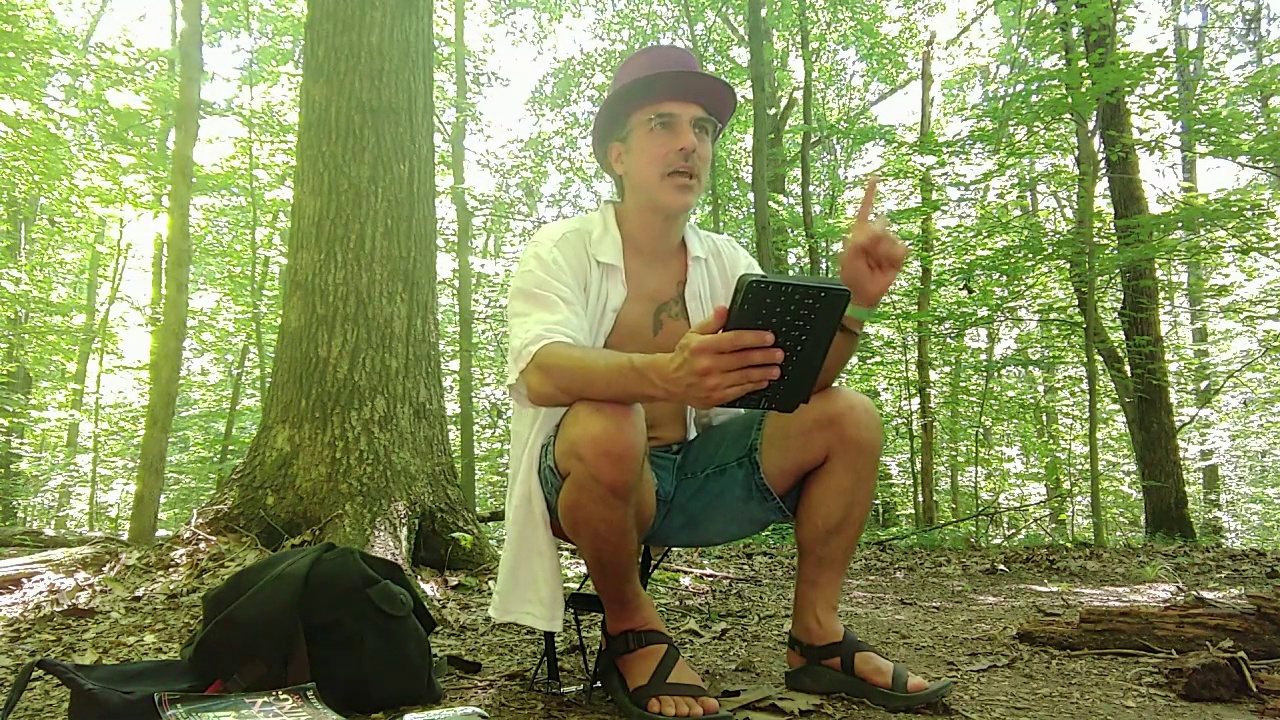 What is Tom up to now? What's he been writing and recording, and what events is he scheming? Bookmark this page and check back often!
New Art Page
I've revamped and updated my visual art page at https://infamous.net/visions
Recent posts at The Zen Pagan
Posted on Sunday August 02, 2020
The past few days have been among the worst in my life. I find that am estranged from my brother, most likely permanently -- I have to think that if you don't seek rehab after ending up on a ventilator, you're probably not ever going to. And I'm left much more distant from my beloved mother that I want to be, though I'm going to try to keep the connection open.

My heart is heavy.

And yet.
Posted on Monday June 15, 2020
Yes, the plague is killing thousands! and Yes, the oppressors are brutal! and Yes, the cities are burning! But Stop Stop and breathe. A slow breath in through the nose, not a quick panicked pant And again, breathe And for the power of three, again. Do you smell it? Do you smell the honeysuckle? The […]
Posted on Wednesday June 10, 2020
The fnords are the cliche phrases and stock tropes that obscure the truth without actually lying. They are whatever black magic has led to Americans seeing accounts of police violence and other crimes of the state in newspapers and on TV news for decades, yet somehow looking past them.
Posted on Thursday May 28, 2020
This period of change isn't over and will not be for some time. That means that you, my fellow magician, are in a liminal space where the possibility for deliberate change -- for magic -- is greatly expanded.
Posted on Friday May 08, 2020
But on my shopping trips over the past few weeks I've been struck by how distracted and unfocused many of my fellow shoppers are.

So in this post I'd like to use four fundamental concepts from the Japanese martial arts to discuss strategies for safer and smoother shopping. And perhaps in the process give an example of how the study of the martial arts has much broader application to our lives than merely punching and kicking.
Upcoming Events
Posted on Sunday June 28, 2020

Starwood is an online event this year!

I will be doing a ritual:

Wednesday July 8. 7:00 pm: Money Washing Ritual

And a concert:

Thursday July 9, 12:30pm: Concert: Tom Swiss

And Saturday, July 11, after the Concert, I will be working with the Family of Fire to put on the Virtual Bonfire

Posted on Sunday June 28, 2020
We're doing on-line karate classes during the COVID-19 crisis. Tuesdays and Thursdays at 6:15pm, on Zoom (2-way video) and streaming on Facebook (1-way video).

Open to all! We love absolute beginners!

Next class: June 30, 6:15pm
Zoom:

Zoom Meeting
https://us02web.zoom.us/j/85475928101

Meeting ID: 854 7592 8101
Password: seido2020

https://us02web.zoom.us/j/85475928101

Or see the Catonsville Seido Karate Facebook page.

Posted on Monday June 29, 2020


Grab a drink (from your own fridge) and settle in from some tunes with The Reverend Tom Swiss, in the comfort of wherever you are! Activate your telepresence device and join me for original tunes, traditional songs, and folky rock covers. Maybe a poem or three...

NOTE 🖡 🖡 🖡 NOTE

Streaming from the event page seems to be confusing people, so this time I'll be streaming from my profile.

NOTE 🖠 🖠 🖠 NOTE

(A whimsical name; there will not, actually, be whales here.)

Posted on Sunday April 05, 2020
5pm Friday, April 10

An exercise and wellness class based on qi gong, yoga, self-acupressure, and old school calisthenics.

Open to everyone!

We'll have a Zoom meeting for a two-way connection:


https://us04web.zoom.us/j/333879894?pwd=V24yNjFURHY2cXorUkN5K0x6NS9qZz09

Meeting ID: 333 879 894

Password: 066044

Or see the linked Facebook event for a one-way video stream.

Posted on Wednesday May 20, 2020

Good time to sit together. Join me on Zoom or Facebook Live at 4pm Sunday for a short and easy Zen-style meditation. We'll do one 7 minute round and one 15 minute round, so even if you've never sat before you can do this. No experience needed. Basic instructions provided. If you don't have a fancy special meditation cushion, grab your bed pillows or a folded-up comforter.

All are welcome to join.

Join me on Zoom:

https://us04web.zoom.us/j/152076299

Meeting ID: 152 076 299

Or see the linked Facebook event for a one-way video stream.

Videos on YouTube
Posted on Monday July 20, 2020
Some thoughts about what zazen can teach us about addiction and substance abuse, from the July 19 2020 episode of our Sunday Afternoon Sitting mediation series.

There is a Japanese proverb: the man drinks the first pitcher of sake; the first pitcher, drinks the second; and then the sake drinks the man.
Posted on Monday June 15, 2020
Easy Zen-style meditation with instructions, and a little talk on the Japanese proverb "It is easier to find a thief in the mountains than a thief in your own heart." (If you want to skip ahead to the talk it start at about 35:17.)
Posted on Sunday June 14, 2020
Vlog entry for this post at The Zen Pagan: https://www.patheos.com/blogs/thezenpagan/2020/06/police-violence-seeing-the-fnords/

Even heavily conditioned citizens are finding it impossible to reconcile what they see in viral videos of cop violence with what they've been told about their country. People have seen the fnords. The lies are obvious and citizen's conditioning is falling apart.
Posted on Saturday June 06, 2020
Some thoughts about violence and peace, from the "Sunday Afternoon Sitting" meditation series on May 31 2020, with Tom Swiss
Posted on Thursday April 16, 2020
Broadcast live from Tom's Secret Headquarters each Wednesday for your quarantine entertainment! Part 2 of the 4/15 show -- with poetry! And a special quarantine edition of my song "This Present Moment Sucks".
Recent Tweets and Retweets
Tweets by tom_swiss