Chewbacca the Wondermutt: July 15 1997 - November 27, 2009.
Hello dear friends. I'm very sad to inform you all that my dear dog Chewbacca passed on November 27. He had been sick for the past week, becoming lethargic and losing his appetite. I took him to the vet on Monday, and when the blood work came back the next day we saw that his kidneys were starting to fail. Tuesday night he was started on IV fluids and anitbiotics, and I am told that he did rally a little bit and make a temporary improvement, but unfortunately didn't pull through.
If you have comments or memories of Chewie to share, please enter them at the end of the page -- they'll be e-mailed to me and I'll add them. Thank you. -Tom
(For those who never met them, the other dog in these photos is Chewie's mother, Piccolo, who for now remains healthy for a dog her age passed on January 20, 2010.)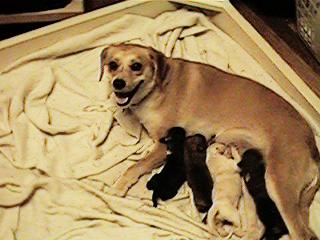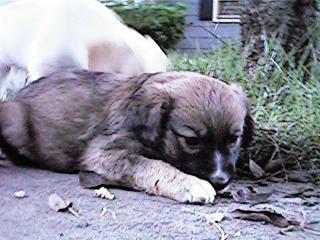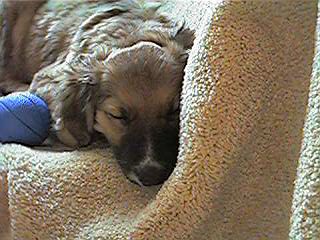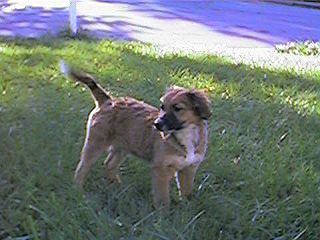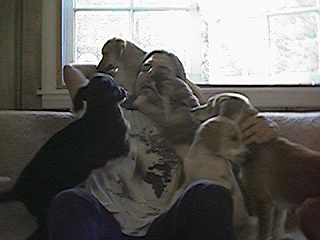 Chewie (in my face), his sisters, his mom, and me.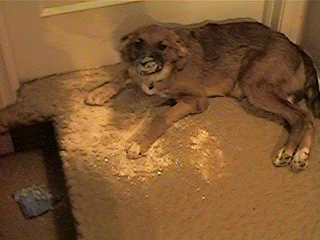 What's the difference between a packet of oatmeal bath (for treating poison ivy), and a delicious meal of oatmeal? None!, says Chewie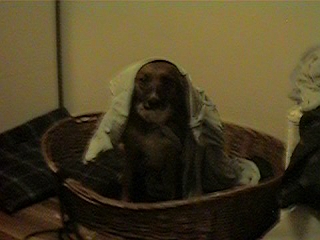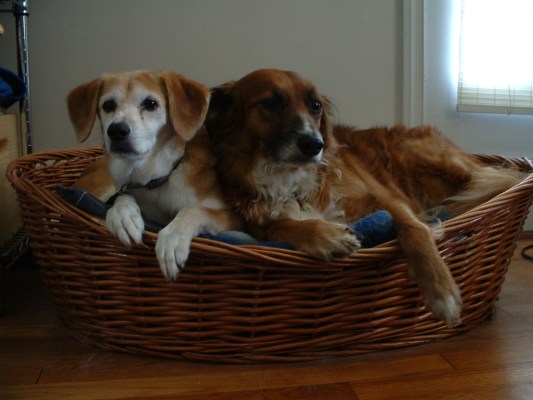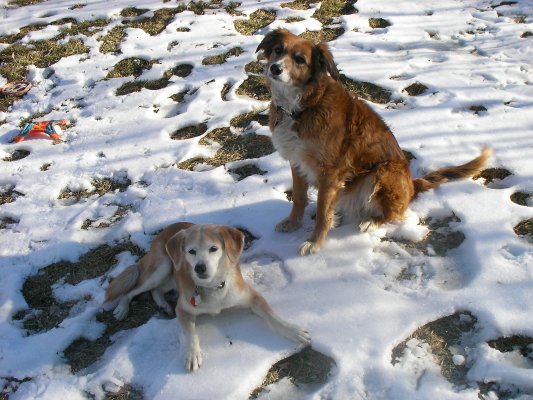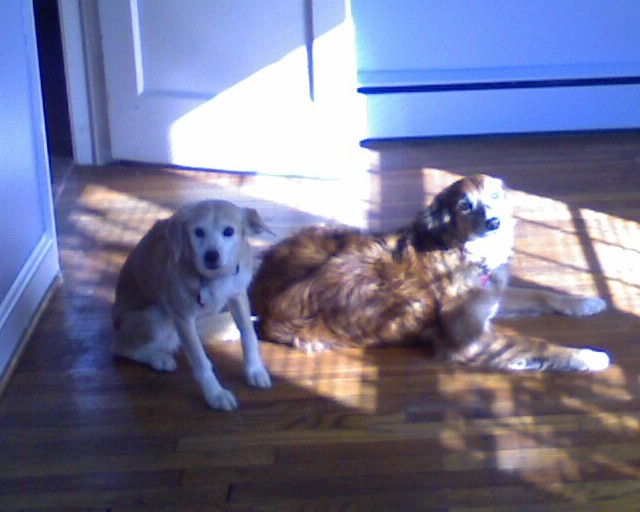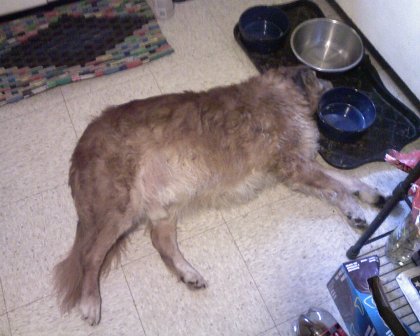 An after dinner nap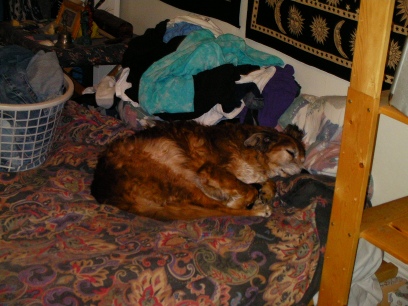 When I said it was ok for dogs to sleep on my bed, I neglected to train them to sleep at the *foot* of the bed.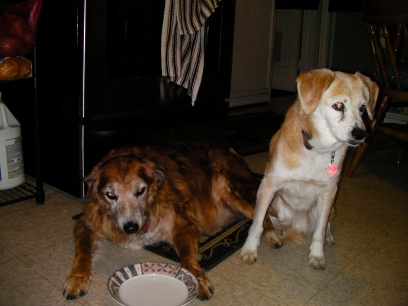 ---
Comments
I remember when you got Piccalo and decided to choose Chewie as the one to keep. When he first ate your Doc Martins, I said, "You shouldn't have named your dog CHEWIE!" And I remember when he ate your earring and story of the x-ray being at match to it's twin, not in his stomache. I always got a kick out of playing fetch with him in the back yard; I always got a kick out of the way he would go from standing up to downward dog to laying down... He was so sweet. And now I wish we had recorded one of our many sing-a-longs. One of 2 dogs I've ever met - Pic being the other - that was vegan! You gave him such a wonderful life and his love for you enhanced yours. There are those of us who get it - that a dog isn't just a pet, but a family member, and I am so sorry for this loss. Chewie was great and I'm glad I got spend more than few hours petting his ultra-fluffiness over the years. Much love to you, Tom, in this time of sadness. RIP Chewie.
Your long time friend and dogsitter,
Jodi
---
I am sorry to hear about Chewie. Although I didn't meet him, I can tell from the photos what a sweet, playful, beautiful pup he was. My thoughts are with you, Piccalo and the rest of his family!
Colleen B.
---
Chewie looks awefully familiar; I am pretty sure I met him. I am so sorry. Time may ease the hurt but I don't think you will ever stop missing him.
---
Hmm, I never thought that Chewbaca would precede his mom to the fields-of-stink-to-roll-in-and -eat. I'm sorry that he has passed. I'm sure that Piccolo is also sad and I hope that you are both fairing well. He was a crazy dog at times. I'll never get over the fact that you inadvertently trained them to howl when they heard sirens! That was always a hoot! Blessings to you now.
dancing tree
---
Dear Tom,
I am so sorry for your loss, I know how painful it is to lose a lifetime friend. Call me if you want to talk. How is the surviving dog adjusting?
Love and Peace,
Suzanne
---