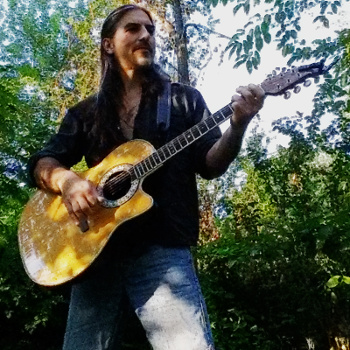 The Reverend
Tom Swiss
and his Eclectic Acoustic Maneuvers
Singing Songs of Love and Other Dangers
Including original music based around poetic lyrics and covers ranging from centuries-old folk songs to 21st century rock and roll, Tom Swiss's eclectic acoustic music was once described by a bystander as sounding like "a combination of Jim Morrison and Jello Biafra". Besides numerous venues in and around Baltimore, he has played at events including the Ellicott City Fall Festival, Wisteria's Cornstalk Festival, the Free Spirit Gathering, and the Instant Gratification series of multimedia art happenings.
Upcoming/Recent Shows
Saturday, June 16, I'll be playing at the Free Spirit Gathering in Darlington, MD. I'll be doing a one-hour set of originals and folk tunes in the "lunchtime concerts" series.
Live Recordings
Tom's demo album of original live music, Lo Fi, No Talent, is now available for free download.
Video from February 4, 2016 at 788:

(YouTube's choice of image is funny here, I'm not really trying to eat the microphone...)
Video from January 3, 2009 performance at the Baltimore Ethical Society:

And a new musical project with an entirely different sort of sound:
Tom Swift and the Electric Monk
Experimental electro-primitive improv
A new project, experimentally mixing the high-tech with the primitive. Laptop meets shakuhatchi. Electric guitar meets kubing.
More information coming soon.
See Tom's homepage for upcoming dates.
You might also be interested in his poetry.