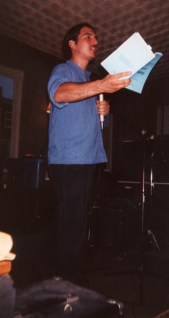 "Poems, everybody, poems!" - Pink Floyd, The Wall
These are some of my poems. Everything here is Copyright © Tom Swiss. The Hounds Of Hell will forever be nipping at your heels if you try to represent any of it as your own, so there.
This is mostly old stuff. Since most venues won't publish previously published works, and they include web publishing in that restriction, new stuff will be added only once I've given up hope of publication (or less likely, managed to get it published somewhere...), so my favorite new stuff ain't here.
Some of these works cover controversial topics or contain strong language that may not be suitable for children - or for many adults, for that matter. The easily offended need proceed no further.
By the way, I am not this poet Thomas Swiss, nor any relation to him. He's probably a decent guy and all and I wouldn't want you to blame him. I'm the poet Tom Swiss from Baltimore. (Not the lawyer Tom Swiss from Baltimore either, though he is a cousin; I'm the hacker/poet/karate-ka/bodyworker/singer/songwriter one.)
To help keep us straight, to the left is a photo of me from a reading at the late lamented Funks Democratic Coffee Spot.
If you live in the Baltimore area and go to poetry events you may have seen me - I read out a bit (not as much as I used to since open mic poetry venues started charging a cover, that's just wrong), hosted an open mic at the original One World Cafe in Federal Hill for a few months some years back, and I currently co-ordinate the Zelda's Inferno poetry workshop.
Recordings of Readings

Sometime they catch me in the act. Recordings made available for demonstration purposes only. All rights reserved.

Funks Democratic Coffee Spot, July 13, 2002 (Robin and Eric's farewell reading):

intro to Creed
mp3
Creed: A Personal Statement
mp3
Red (Airstrike)
mp3
I Feel The Muse Upon Me
mp3
I Looked For God
mp3
Sudden Collapse
mp3
Sestina 1
mp3
You might also be interested in my music.

(A few printed copies of the zeroth edition of Bizarre Acts of Poetry are available; inquiries to tms at infamous.net)
---